Introducing the Ultra Mate Kids Bikepacking kids Bike trailer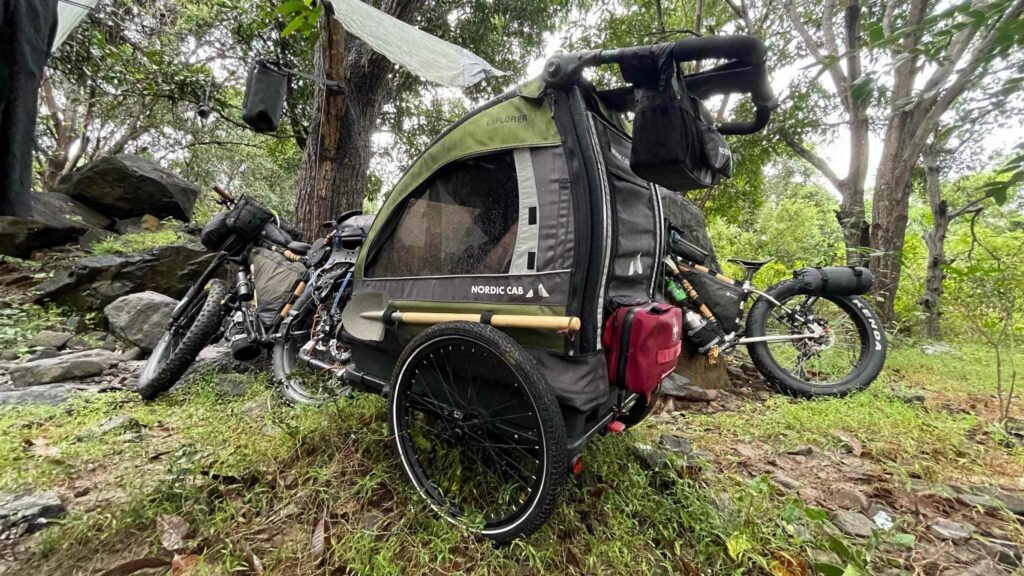 As an avid gear enthusiast, there's nothing more exciting than diving into research and acquiring new equipment for my upcoming bikepacking adventures. From planning thrilling bike rafting expeditions to braving winter bikepacking escapades, I've spent years perfecting my bikepacking setup with top-notch gear. It's hard to admit, but I thought I had everything I needed—until 2020, when my partner informed me that we were about to welcome a new bikepacking buddy.
See Mark´s Bikepacking blog and loads of gear tests and reviews here.
One of the fantastic aspects of having a child is the opportunity to acquire even more bikepacking gear. From exploring larger three-person tents to family-style cooksets, the list goes on. For me, the challenging part was researching kids' bike trailers since I had no prior experience in that area. While finding excellent tent brands was relatively easy due to my previous knowledge, selecting a kid's trailer was an entirely new endeavor.
There are numerous options available in the market, but safety, ample space for growth, cargo capacity, a fully flat sleeping position, all-season usability, and good airflow were essential considerations for us. Additionally, we wanted a durable trailer that could be conveniently packed for flights and transformed into a pram for daily use when not on tour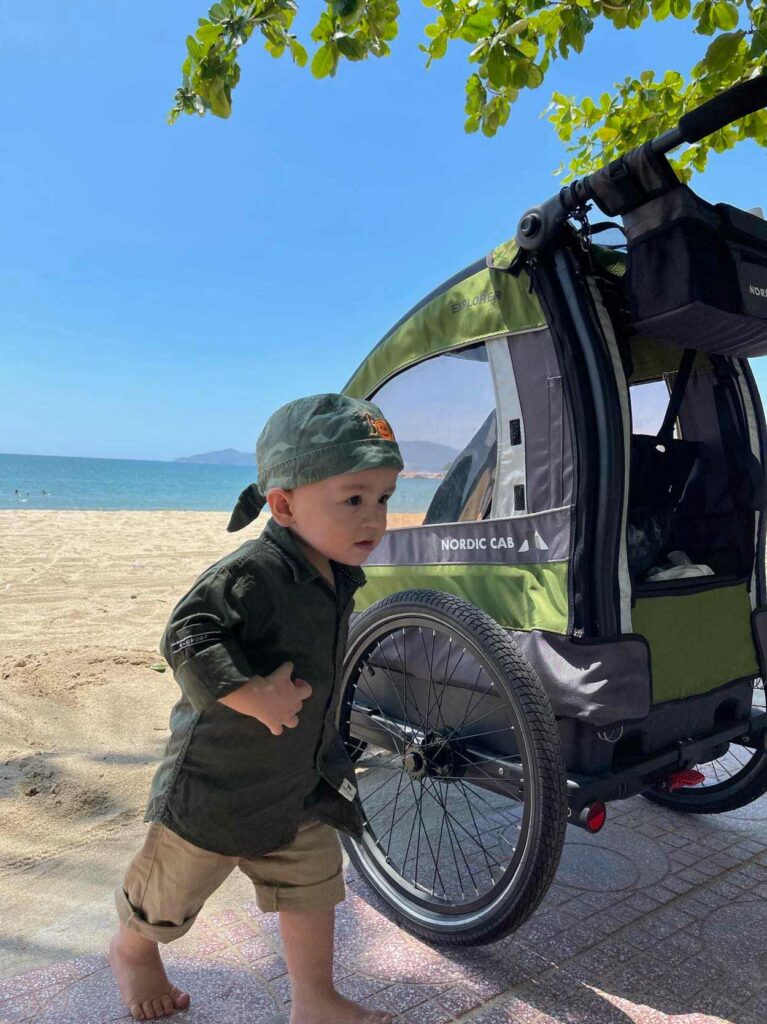 One thing I noticed right away was that once you decide you want a kid's bicycle trailer that also doubles as a pram, the price jumps significantly from $200 to well over $800 or even $1500. Therefore, it was crucial for me to make the right choice from the start. Unlike buying an air pad for $80 where you can easily replace it if it doesn't work, selecting the right kid's trailer required a substantial investment.
During my extensive research, I quickly realized that I needed a trailer with a robust bottom, as fabric-based ones tended to deteriorate after a single winter season—especially with exposure to road salt during snowy conditions. After meticulously watching countless YouTube videos and downloading manuals (yes, I do that before making a purchase), I narrowed down my options to two reliable brands: Thule and Burley
Logan, who had just turned one, was eagerly preparing for his first camping bikepacking trip in 2021. It was time to make a decision and invest in a suitable kids' bike trailer. One option was priced just over $1000, while the Thule model came with a price tag of $1400. However, when it came to spending money in our household, the final decision always rested with my wife. So, I showed her both models on Amazon and asked for her input. She knew I had extensively researched every trailer to reach this point. Ready to place an order and select the color, she interrupted me as I was comparing the two trailers and said, «No, write a list of what we want in a kids' trailer and compare it to each model.»
At her suggestion, I quickly realized that neither model ticked all the boxes on our checklist. One trailer had storage, but lacked storage space when the seat reclined, while the other didn't provide as much airflow. Essentially, they fulfilled only about 65% of our requirements. Taking a break, I happened upon a Facebook post from a family touring South America with two bikes and a kids' trailer. Intrigued, I zoomed in on the trailer photo and realized I was unfamiliar with this brand and model. How had I missed it after watching thousands of YouTube videos?
«Cycle into the unknown» (Anton Nashev) Part 1, Part 2, Part 3

Without delay, I visited their website and discovered the model that seemed to check all the boxes. To my surprise, I found out that it was a family-run business in Norway, specializing in designing and manufacturing bicycle kid trailers for years. However, they had only sold their trailers locally and hadn't engaged in international marketing or sales. Excitedly, I emailed them, expressing my strong interest and willingness to pay for shipping and customs. Their reply brought even better news—they informed me that they would start selling worldwide the following month. Not only that, but they would offer free shipping and cover international customs taxes for any country.
Even with these added benefits, the trailer turned out to be $150 cheaper than the other brand I had been considering. The final decision was made easier by the fact that they had the color I loved, Olive Green, which matched all our bikepacking bags. So, we placed the order, and just 10 days later, it arrived in Vietnam. Customs clearance usually takes seven days, but Vietnam can sometimes be challenging in that regard. However, the company took care of all the hassle, making the process stress-free. Living in Vietnam, we had encountered difficulties with customs before, but this company ensured a smooth experience.
I'm the kind of guy who struggles with putting furniture together, often ending up with leftover bolts and screws—you know the type. Plus, it takes me an entire day to complete such tasks.
So, when the trailer arrived and needed to be assembled, I decided to head to the bar and left it in the capable hands of my partner, Sang. Two hours later, Sang and Logan zoomed past me on their bikes, with Logan comfortably seated in the trailer. Sang told me it was a breeze to put together, taking her only 50 minutes. They had already taken a trip to the beach and were enjoying their time riding together.
We now use the Nordic Cab on a daily basis. It serves as a pram, taking Logan to nursery school, and on weekends, we take it on day trips to the beach using our bicycles. Additionally, every month, we embark on bikepacking camping adventures, covering a round trip of about 120km. We have used it for over 15 months, experiencing all the seasons that Vietnam has to offer—from scorching hot days reaching 40°C to heavy monsoon rain. On sweltering days, the airflow in the trailer keeps Logan comfortable, preventing his back from getting sweaty. And during heavy downpours, we simply use the rain cover that comes with the trailer, ensuring he stays completely dry throughout our wet adventures.
The trailer's handling is excellent, especially since it has two seats that can be repositioned. We prefer to position Logan in the center, giving him ample space and room for his beloved toys (his teddy bear must come along on every trip!). As a pram, the Nordic Cab moves easily, and it's surprisingly manageable to control, despite its size. Even our Vietnamese grandma, who is only 4.8 feet tall, weighs 43 kgs, and is approaching 70 years old, takes her grandson out for a stroll with the Nordic Cab every night. She says it's fantastic, even with the less-than-ideal condition of the pathways and roads.
Let's discuss the spaciousness of the trailer. It provides Logan with ample room not only to grow and use it for years to come but also features two deep side pockets that surpass those of other brands. On one side, we store his books and toy cars, while on the other side, he keeps his drinks and snacks readily accessible.
The most important aspect of this trailer was our plan to utilize the 80 liters of rear space for food storage. However, upon closer examination, we discovered that there is approximately additional 40 liters of usable space beneath the seat if we wanted to recline it into a flat bed position. if Logan happened to be sleeping, we would have to disturb him to access the food stored under the seat., in addition to the trailer and Logan weighing and food weight proved to be challenging on hilly terrain.
After experimenting with various configurations, we found the perfect balance. We now store all of Logan's clothes, diapers, milk powder, camping gear such as his sleeping bag and air pad, and of course, his beloved toys in the under-seat storage area. This way, we only need to access these items when Logan is awake, ensuring he can enjoy a peaceful sleep during each trip. Moreover, these items are relatively lightweight, allowing the trailer to handle well even on steep climbs.
Now, the burning question remains: is it worth the investment? The resounding answer is yes. While it may not be perfect, let's just say it comes pretty close. We made a couple of modifications to tailor it to our specific style of bikepacking adventures. The first modification involved replacing the light that came with the Nordic trailer. While it was adequate for immediate use, we wanted to add two USB-C rechargeable lights with stronger lumens. This ensured enhanced visibility during our rides.
Another modification we made was to incorporate a solar panel on top of the trailer. This allowed us to charge all our gadgets while touring, including the drone, camera, GPS, battery banks, and even Logan's tent fan to keep him cool on those hot nights in the tent. We added a few loops and carabiners to the trailer, enabling us to securely attach the solar panel. Additionally, we installed a first aid kit to the rear bar for easy access. It would have been convenient if the trailer had built-in attachment points for accessories like a first aid kit. We also included side loops to carry our snow shovel, which was more of a personal preference. Nonetheless, it would have been beneficial to have external attachment options on the trailer.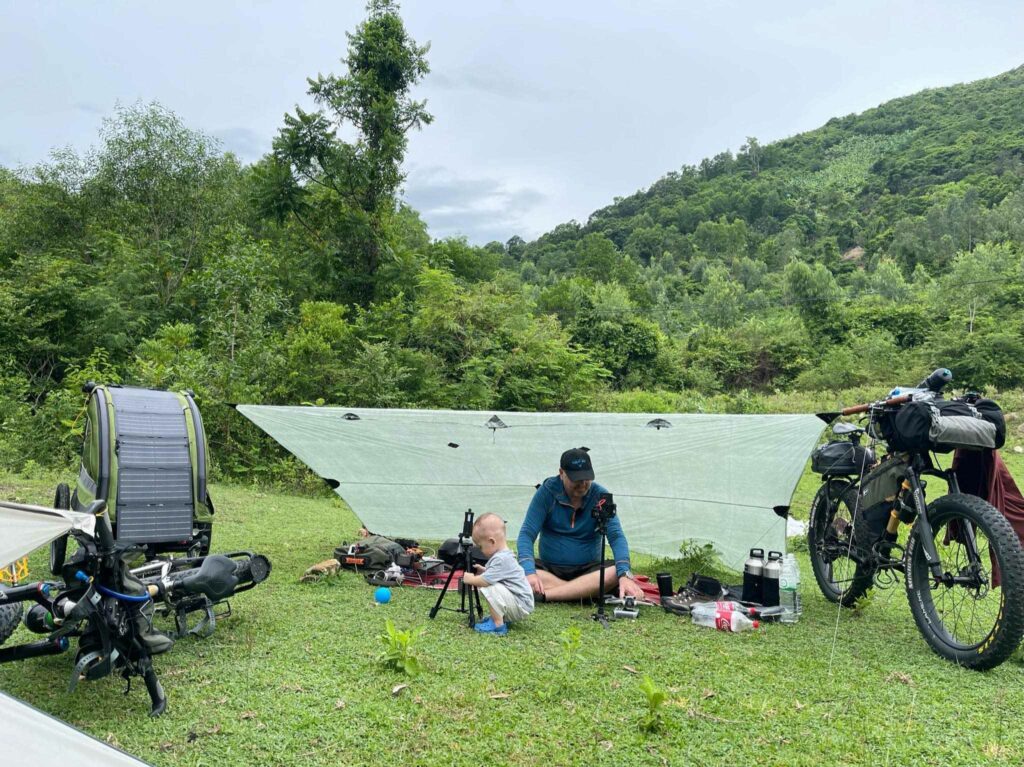 One aspect we appreciated was the trailer's excellent airflow. However, we would have loved to see mesh netting not only at the front and back but also on the sides to further enhance ventilation. The side's durable see-through material with heat and cold reflection is commendable, but an additional mesh layer would provide even better airflow and insect protection.
One aspect I would love to see improved in the Nordic Cab trailer is the choice of wheels. Both my partner and I ride fat bikes, and the trailer effortlessly handles trails. Living in a beach town, we frequently enjoy beach rides, and having the option to add fat bike wheels would be a fantastic enhancement. Not only would it improve the trailer's design, but it would also allow us to tackle sandy beaches and snowy terrains with ease. Having the flexibility to switch to fat bike wheels as an aftermarket product would be a valuable addition, providing even more versatility for different riding conditions.
Overall, despite these minor considerations for improvement, the Nordic Cab trailer has proven its worth. With its versatility, durability, and the ability to accommodate our modifications,
The Nordic Cab trailer has truly become a cherished part of our family, not only for our bikepacking adventures but also for our everyday family life. It seamlessly integrates into our routines and enhances our experiences, making it an invaluable addition to our household.
As we continue with the planning stage for our upcoming big tours across Europe in 2023, we find ourselves considering various aspects of our bikepacking gear. While there may be concerns about certain equipment, one thing I have complete confidence in is the Nordic Cab trailer. I am certain that it will keep our son safe throughout our journey, regardless of the weather conditions or the terrain we encounter. Its reliability and capability to handle any situation provide us with peace of mind as we embark on our adventure.